New Features: Photo Albums, Trip Reports, Traces, Locations
Hi BBWers
Some may have noticed that the website was not available for a few hours today. This is because we've been adding some new features to make brisbanebushwalkers.org.au a more vibrant on-line community.
What are the new features?
We've added Photo Albums, GPX Traces, Trip Reports, and Locations. We have also added a Discussion facility which should make communication between club members easier.
Photo Albums
Photo Albums are pretty self explanatory. They are photos from activities. Members can upload photos after they complete an activity. NOTE - at the moment, photo upload is quite slow. Please be patient when uploading. We are working to resolve this issue.
GPX Traces
GPX Traces are traces recorded with a GPS Handset or other GPS-capable device. Leaders can now upload their traces to share with other leaders. The website provides visualisation of the route recorded by the GPX, over a topographic map supplied by OpenStreetMaps.
Trip Reports
Leaders may now add Trip Reports to their completed activities. Over time, the repository of Trip Reports submitted by leaders will become a very valuable resource.
How do I Post?
If you visit an activity that you have completed, you will see some new options. If you are a leader, you will see this: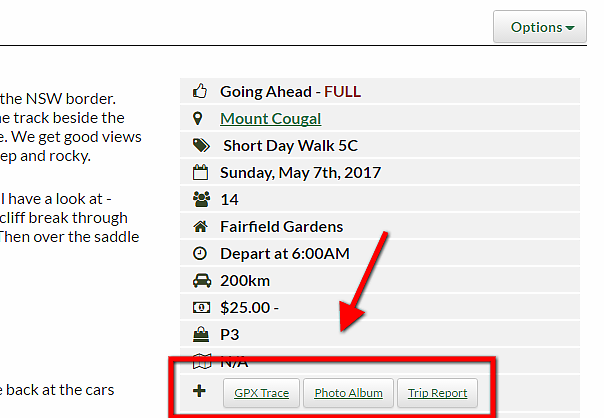 If you're not a leader, you will be able to post Photo Albums, but will only be able to view Trip Reports, and will not be able to post or view GPX Traces.
How Do I View?
If an activity already has content posted, you will see something similar to this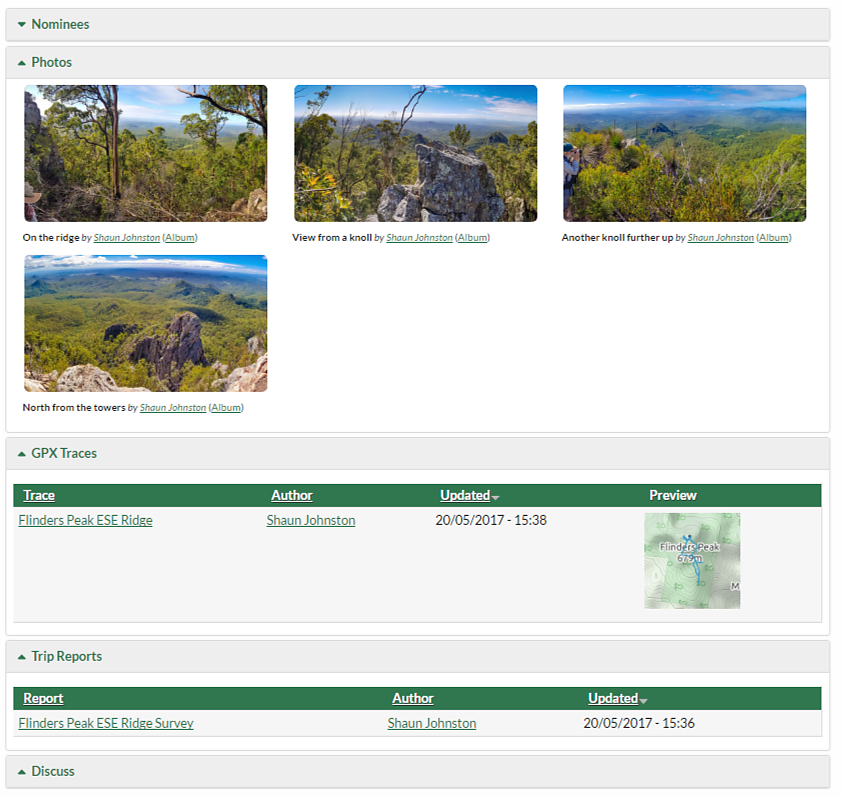 There are four new sections. Photos, Trip Reports, GPX Traces and Discussions. GPX Traces are only visible to leaders, while Discussion visibility is set by the leaders of the activity.
Locations: Tying It All Together
All Activities have at least one location - the destination. Often they have a second - the meeting point. We have taken these locations, and created dedicated pages for them.
Here is an example - Mount Cougal. You can view a brief description, a map showing where The Cougals are, and a complete history of activities that have gone there. In addition, each Location will display photos, traces (only to leaders) and trip reports for all activities that have gone there. This makes Location pages a hub of information about locations that BBW visits.
At the moment, we only provide a small list of location pages, listed here: https://www.brisbanebushwalkers.org.au/locations. This list is small, because we are defining a list of Standard Locations, which will be added to over time. Leaders will still be able to use and type any location they like when they add an Activity, but only standard locations will be linked from an activity to a dedicated Locations page.
Please bear with us while we pad out the Standard Location list. It will not take too long!
We hope you enjoy these new features.
Do you have any questions? If so, please feel free to email myself (Shaun) at webadmin@brisbanebushwalkers.org.au or Julie, our Technology Officer, at technology@brisbanebushwalkers.org.au. Your feedback is valuable!